TBACon2023 is happening on April 10, in-person in Berkeley, CA and online.
Keep checking this page! We'll be adding details about the in-person and virtual sessions as we get closer to the conference.
9:45-10:45 AM: Breakout One
11 AM-12 PM: Breakout Two
1:30-2:45 PM: Afternoon Plenary
Arts Leadership Residency 2022-23 Cohort
This residency funds aspiring artistic directors and managing directors in residence at Bay Area theatres for a 12-16 week residency during which the residents with be mentored by the artistic and/or managing director and lead a significant project during the season.
Tanika Baptiste (she/they) in residence at Theatre Rhinoceros
Amal Bisharat (she/her) in residence at Golden Thread Productions
Mylo Cardona (they/them) in residence at Oakland Theater Project
Phaedra Tillery-Boughton (she/her) in residence at SFBATCO
RHE Artist Fellowship 2022
The RHE Foundation Artistic Fellowship makes a significant investment in an individual female or nonbinary artist of color that will allow her to take the next step in their career. Nominees are selected by a diverse panel of established Bay Area theatre professionals.
Angel Adedokun, 2022 Fellow
Will Glickman Award 2023
The prestigious Will Glickman Award celebrates excellence in playwriting by selecting the best new play to premiere in the region each year. Named in honor of Bay Area playwright and screenwriter Will Glickman, this award has been presented annually since 1984. The winner is chosen by a panel of leading Bay Area theatre critics.
This Much I Know
Play by Jonathan Spector
Produced at Aurora Theatre Company
Keynote with Sean Fenton
Live, in-person theatre has returned, but there is no "return to normal." In this moment, the field is united by a unique breadth of challenges: the effects of pandemic shutdowns, racial reckonings, AB5 fallout, and economic unpredictability. How can we stand together in facing these compounding challenges? TBA's executive director, Sean Fenton, brings his perspective as a researcher, actor, community member, and emerging leader in Bay Area theatre.
About the speaker
Sean Fenton (he/him), executive director of Theatre Bay Area, has been active in the professional Bay Area theatre community for more than two decades as an actor, musician, director, and administrator. He has performed at TheatreWorks Silicon Valley, San Francisco Playhouse, 42nd Street Moon, Ferocious Lotus Theatre Company, and Community Asian Theatre of the Sierra, among others. Backstage, he has been a leader at Bay Area Children's Theatre, Kaiser Permanente Educational Theatre, and WolfBrown's Intrinsic Impact program. Sean is a member of Actors' Equity Association and SAG-AFTRA and holds a BA in Cultural and Social Anthropology from Stanford University.
With community partners:  Dream Warrior Group, Great Star Theater, Landmark Musical Theatre, and TodayTix
with Christopher Morrison
Virtual and augmented reality are having a moment in the news, in the arts, and in home entertainment. Streaming and hybrid theatre have already transformed how people see a show. But what does all this mean for theatremakers like us? Writer-director-educator and VR expert Christopher Morrison is here to show us what's next on the horizon: the technology, the possibilities, and the future of theatre.
About the speaker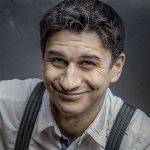 Christopher Morrison (he/him) is a multi-talented writer-director-educator who has worked on over 150 theatrical productions, VR, videogames, films, and immersive entertainments on three continents. His VR branching narrative The Werewolf Experience is currently in festivals. His feature film The Bellwether was released in 2019. He has written and directed 360° films as well. He has been commissioned for screenplays and plays alike. He recently added "Narrative Designer" as he's written and designed for multiple videogames ranging from the indie level to AAA. Cirque du Soleil called him "A huge asset to the creative process." He frequently speaks on storytelling in WEB3.0, recently addressing the House of Lords in England. He is an Adjunct II Professor teaching Immersive Storytelling at the California College of the Arts.
6:15 PM: Post-conference Reception
A short reception with drinks, light fare, and a toast to the future of Theatre Bay Area. People are encouraged to mask while they're not eating or drinking, but mask wearing will not be enforced as it is during the conference.