Postcard Distribution Network
Postcard Distribution Network (PDN) is back!
The Theatre Bay Area Postcard Distribution Network (PDN) is an efficient and inexpensive way to get your company's postcards into the hands of eager arts lovers all over the Bay Area!
PDN is a network of nearly 50 established locations in San Francisco, the East Bay, and the South Bay. Each location features an attractive postcard display in a highly visible traffic area where performing arts organizations, services, and professionals can have their promotional postcards displayed, including numerous theatres and select information centers.
No more running from place to place trying to get enough coverage — we do the work for you!
How to Advertise with PDN
What you need:
1. Print your postcards
What size? Must be smaller than 8.5 x 5.5in (half letter size). Oversized postcards may not fit on all racks.
How many? The number of postcards depends on which delivery routes you want to advertise with and might vary month-to-month. Each route is listed below with a postcard count.
What about my other printed materials? Brochures, multi-page pamphlets, etc. are welcome, but you might need to reduce the number of pamphlets so it's the same approximate size and weight as a stack of postcards. If it can be displayed in the same space, it should be ok!
2. Package them
Postcards must be separated into bundles for delivery — each bundle will be delivered to a display location on your selected route(s). You can include up to 25 postcards per bundle, and we recommend using rubber bands to keep them organized. If your postcards aren't bundled, they may not be delivered.
The number of bundles can vary per route and per month — check the the delivery routes below for the most recent count.
Not enough postcards? Please keep the same number of bundles, with fewer postcards per stack.
3. Purchase your delivery route(s)
Routes can be purchased separately or bundled together for a discount. Purchase through our online store with the links at the bottom of the page.
Want the best price? Theatre Bay Area Company and Associate members get a 30% discount on all advertising. PDN Display Locations also get an additional $5 off all PDN routes.
4. Drop off your bundled postcards
We have drop off options around the Bay for your convenience. Drop off your packaged materials at any of them for inclusion in the upcoming deliveries.
Carefully review the drop off options — as we move toward a more regular schedule, there might be some variation month-to-month. We are unable to give refunds for missed delivery windows, and we are unable accept drop-offs outside the listed options.
Advertising purchases can be cancelled up to 14 days before the delivery date for a partial refund. The drop off instructions are open to change.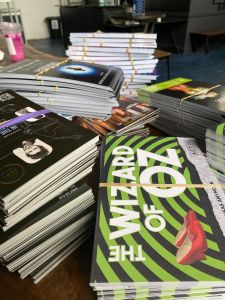 Drop-off Options: December Delivery
Bring your packaged marketing materials to one of these options, and we'll deliver them to your purchased routes. *Note the December San Francisco drop-off is at Z Space!*
South Bay
City Lights Theater
Monday, December 4th
2:00 PM – 4:00 PM
North Bay
Marin Theatre Company
Tuesday, December 5th
2:30 PM – 4:30 PM
East Bay
Aurora Theatre Company
Tuesday, December 5th
1:00 PM – 5:00 PM
San Francisco
Z Space
Wednesday, December 6th
2:00 PM – 4:00 PM
Or Mail Them!
Theatre Bay Area
499 Alabama St., #450
San Francisco, CA 94110
Make sure mailed packages arrive by 5 PM on December 5th, 2023
1. San Francisco Route
Delivery Date: December 7th
Postcard count: 17 bundles of 25 postcards (up to 425 postcards)
A.C.T.
Bayview Opera House Inc.
Cutting Ball Theatre
Intersection for the Arts
Joe Goode Annex
Magic Theatre
Mannakin Theater & Dance
ODC Theatre
ODC Dance Commons
Phoenix Arts Association Theatre
The Marsh
New Conservatory Theatre Center
Z Space
Ruth Asawa San Francisco School of the Arts (Theatre Dept.)
Counterpulse
447 Minna
Potrero Stage
2. East Bay Route
Delivery Date: December 14th
Postcard count: 15 bundles of 25 postcards (up to 375 postcards)
Aurora Theatre Company
Berkeley Playhouse
Cal State East Bay Theatre
Cal Shakes
Contra Costa College Drama Department
Finnish Hall
Freight & Salvage
Kinetic Arts Center
Masquers Playhouse
Oakland Theater Project
Oakstop
Shotgun Players
Theater Arts Chabot College
Town Hall Theatre Co
UCB School of Theatre and Dance
3. South Bay/Peninsula Route
Delivery date: December 21st
Postcard count: 12 bundles of 25 postcards (up to 300 postcards)
City Lights Theatre Company
Coastal Repertory Theatre
Foothill College Theatre Arts/Foothill Music Theatre
Hammer Theatre San Jose State University
Los Altos Stage Company
Musson Theatrical
The Pear Theatre
Peninsula Ballet Theatre
Peninsula Youth Theatre
School of Arts and Culture
San Carlos Children's Theatre
3 Below Theatre
Join as a Display Location!
Seeking North Bay Venues! Still accepting South Bay, East Bay, and San Francisco Venues.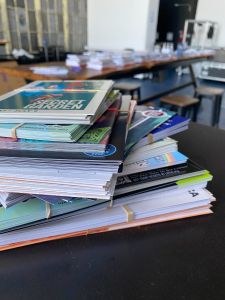 We're always seeking more display locations to participate. Whether you are a theatre, café, or other location visited by performing arts fans, we'd love to add you to the route. All you need is a display rack, table, or shelf and daytime availability during delivery dates.
We are currently planning the North Bay launch for 2024. We're still adding to the South Bay/Peninsula, East Bay, and San Francisco routes.
Display locations get a discount on their PDN purchases in thanks for making the program possible. Email Hilary@TheatreBayArea.org for more information.