Shout-outs from the TBA Talent Bank
Celebrate a peers' work (or your own) with a Shout-out!
We're celebrating our individual theatremakers with a new cross-platform campaign, Shout-outs from the TBA Talent Bank!
Shout-outs from the TBA Talent Bank are your way to celebrate the work of individuals in our community. Excited about your upcoming production? Want to hype up a friend? Proud of your students' latest show? Submit a Shout-out to share some love.
Selected Shout-outs will be featured next month on the TBA website, social media, and Insider newsletter. We'll link to the Talent Bank profiles of all featured Shout-outs, so make sure yours is up to date!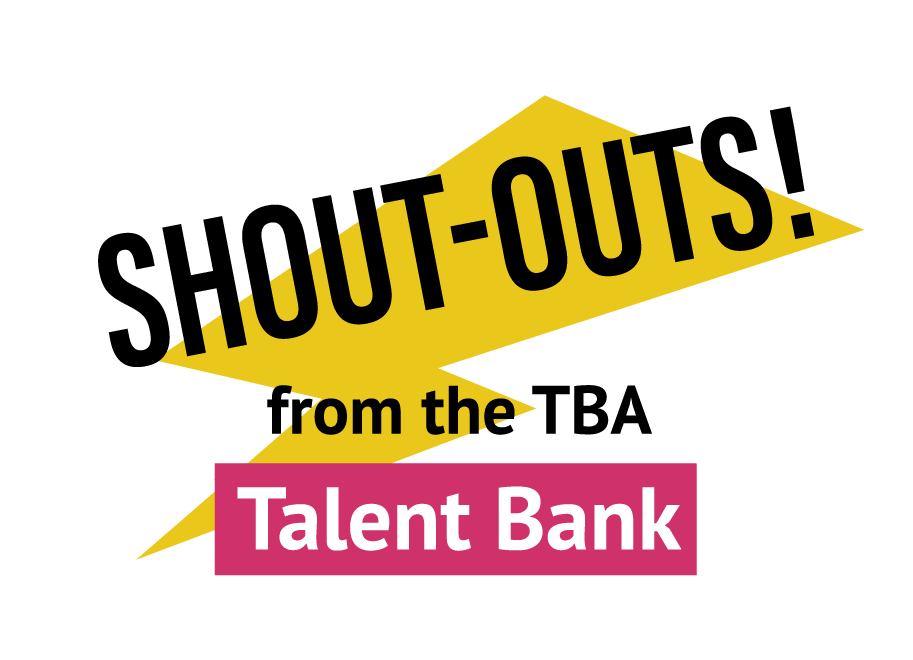 What's the Talent Bank?
The Talent Bank is the definitive directory of theatremakers in the San Francisco Bay Area. When you create a Talent Bank profile, you become part of the Bay Area's go-to pool of candidates, and when an employer is looking for your skillset, your resume will be at their fingertips. With detailed and relevant search criteria, the Talent Bank is uniquely positioned to reflect our community's needs.
Whether you're looking to get cast in a show or connect with potential collaborators, don't leave the Talent Bank out of your professional online presence.
Who can see my profile?
Anyone with an Individual Premium Membership and all users on a Company or Associate Member account — that's more than 1,600 local theatremakers!