The CA$H Grant Program — short for Creative Assistance for the Small (Organization) and Hungry (Artist) — provides vital financial support to individual theatre artists and small theatre companies in the San Francisco Bay Area. Founded in 1999, these grants support a range of creative projects artists and companies need, from capacity-building projects to fully-produced public performances.
Read about the most recent CA$H Theatre Grant recipients, projects funded in Spring 2023.
Selection Process
CA$H Theatre is an entirely artist-driven granting program. Each cycle, a panel of five artists and administrators is assembled to review the applications and make all granting decisions. To become a grant panelist, check out our panelist guidelines and fill out the grant panelist registration form.
Dancers and Dance Projects
Theatre Bay Area no longer administers applications for dancers or dance projects. CA$H grants for dancers and dance projects are administered by Dancers Group. Learn about CA$H Dance Grant.
TBA Thanks Our Generous Supporters
CA$H Theatre is grateful to have the generous support of the William and Flora Hewlett Foundation and the Wattis Foundation.
EDI Accountability
To hold ourselves accountable in dismantling white supremacy culture and other biases in TBA, we are collecting demographic data on grant applicants and awardees. While there's more work to do, we're proud to say that 95.5% of CA$H Theatre Grants in our 2022 fiscal year went to BIPOC theatre-makers — view the full EDI Accountability report.
Eligibility
CA$H Theatre Grants are available to individual theatre artists, collaborative teams, and small, professionally-oriented theatre companies with operating budgets no greater than $100,000.
Types of CA$H Theatre Grants
There are three funds available: CA$H Creates, CA$H Performs, and CA$H Sustains. Theatre companies, collaborative teams, and individual theatre artists are eligible to apply for CA$H Creates and CA$H Performs, while CA$H Sustains is specifically for theatre companies.
CA$H Creates is a $2,500 grant that supports the development of artistic projects or capacity-building projects not directly tied to a fully-produced performance of a piece.
CA$H Performs is a $5,000 grant that supports fully-produced performances of artistic projects that are open to the public, or projects that support the creation of multiple works by multiple artists.
CA$H Sustains is a $5,000 grant that supports the general operating costs of a Bay Area theatre company. Sustains applications will only be open once per year, during the fall granting cycle.
Deadline
Applications are currently closed.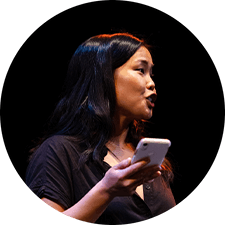 Sarah Matsui
Spring 2021 CA$H Creates Recipient
Photo by Claire Burke
With TBA's support, I was able to finish writing Part III of Hello, Boar, which I performed at Monday Night Marsh at The Marsh in San Francisco... I also had the chance to read new work at APAture Festival by Kearny Street Workshop at Bindlestiff Studio... The new piece I read from also won the 2021 Sewanee Review Nonfiction Contest... Thank you to TBA for putting together this incredible support, and thank you to the 2021 panelists for your vote of confidence in my work.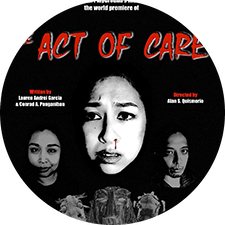 Alan Quismorio
Fall 2021 CA$H Performs Recipient
CA$H Grant made it possible for The Chikahan Company to develop and produce a culturally specific show in San Francisco. The grant provided for by Theater Bay Area made our fledgling company realize one of our goals to introduce Filipinx American arts and culture back into the American Theater here in San Francisco Bay Area.
Spring 2023 CA$H Performs Grants
Crescent Moon Theater Productions; La Lengua Teatro en Español; Metzmecatl: Moon Rope Theater; Oakland Public Theater; Plethos Productions; Queer Cat Productions
Spring 2023 CA$H Creates Grants
The Chikahan Company; Mike Chin; Nicole Jost; Julius Rea; Lisa Sniderman
Fall 2022 CA$H Performs Grants
Dazié Grego-Sykes; Violeta Luna; Tan Sang; Kathryn Seabron; Hector Zavala
Fall 2022 CA$H Creates Grants
Amal Bisharat; Toni Cannon; Daniel Duque-Estrada; Ai Ebashi; Juliana Frick & James Sundquist; Nick Hadikwa Mwaluko
Fall 2022 CA$H Sustains Grants
Formerly Incarcerated People's Performance Project; Play Cafe; Stage Werx Theatre
Spring 2022 CA$H Performs Grants
Native Writers' Theater; More Más Marami Arts; Theatre Cultura; Windy City Productions; Yiddish Theatre Ensemble; Gabrielle Lochard; La Lengua Teatro en Español; The Chikahan Company
Spring 2022 CA$H Creates Grants
Torange Yeghiazarian; Silk Worm; Landmark Musical Theatre; Ray Oppenheimer and Michelle Talgarow
Fall 2021 CA$H Performs Grants
AlterTheater; Left Coast Theatre Company; India Davis
Fall 2021 CA$H Creates Grants
Melissa Koh & Jeremy Liu; Lynea Diaz-Hagan; Tony Ortega & The Latinx Mafia; Sango Tajima & Susanna Martin; Leticia Duarte; Denmo Ibrahim; Norman Gee
Spring 2021 CA$H Performs Grants
Granny Cart Gangstas; Kunoichi Productions; Ely Sonny Orquiza; Fuse Theatre; Nkeiruka Oruche; Conrad A. Panganiban, Krystle Piamonte, and Alan S. Quismorio; Poltergeist Theatre Project; Adam L Sussman; Justin Taylor
Spring 2021 CA$H Creates Grants
Hannah Dworkin and Min Kahng; Malcolm Grissom; Sarah Matsui; Bryan Pangilinan; Lauren Spencer
Fall 2020 CA$H Performs Grants
BoomShake Music; Eye Zen Presents; Latinx Mafia; Metzmacatl, Moon Rope Theater; Beatrice Thomas; Dazié Rustin Grego; Sabrina Wenske; Skyler Cooper
Fall 2020 CA$H Creates Grants
The Forum Collective; Queer Cat Productions; Uplift Physical Theatre; Rebecca Pingree; Eteya Trinidad; Bob Shryock; Tierra Allen
Spring 2020 CA$H Performs Grants
Bay Area Theatre Cypher; Crescent Moon Theater Productions; Those Women Productions; Be Steadwell; Erin Merritt; Virginia M. Blanco
Spring 2020 CA$H Creates Grants
Gamal Chasten; Katja Rivera; Keiko Shimosato Carreiro
Fall 2019 CA$H Performs Grants
Fuse Theatre; Project Poltergeist; Ritual Art Troupe; Solo Opera; Sweet Can Productions; Teatro Nahual; Marc Abrigo; Aureen B. Almario; Chibueze Crouch; Mark Kenward
Fall 2019 CA$H Creates Grants
Footloose Presents; Emma Attwood; Denmo Ibrahim; Amy Grace Lam; Doll Piccotto; Lisa Marie Rollins; Elissa Stebbins

Spring 2019 CA$H Performs Grants
AlterTheater Ensemble; Eye Zen Presents; San Francisco Recovery Theatre; Those Women Productions; Syr Beker; At Ebashi; Alexis Macnab; Baruch Porras Hernandez; Bridgette Portman; Kevin Seaman
Spring 2019 CA$H Creates Grants
Wry Crips Disabled Women's Theatre; Megan Cohen; Marieke Gaboury; Linda Maria Girón; Nina Wise
Spring 2018 CA$H Performs Grants
Fuse Theatre Inc.; Inferno Theatre; Theatre Lunatico; Theater of Others; Lynea Diaz-Hagan; Siobhan Doherty; Barry Eitel; Antoine Hunter; Ana Nelson; Brian Thorstenson
Spring 2018 CA$H Creates Grants
Actors Ensemble; Idiot String; Julie Drucker; Zahra Noorbakhsh; Caitlyn Tella
Fall 2017 CA$H Performs Grants
AlterTheater Ensemble; Arabian Shakespeare Festival; Just Theater; The Lower Bottom Playaz; San Francisco Neo-Futurists; Those Women Productions; Krista DeNio; Jovelyn D. Richards; Dan Wolf
Fall 2017 CA$H Creates Grants
Patricia Cotter; Chibueze Crouch; Bora C Koknar; Charlie Levin; Jon Wai-Keung Lowe; Jubilith Moore
Spring 2017
Black Artists Contemporary Cultural Experience; Eugenie Chan Theater Projects; Ferocious Lotus; Fuse Theatre; Repulsive Women; Theatre Lunatico; Vallejo Shakespeare in the Park; James Ard; Kieran Beccia; Richard Ciccarone; Beth McLaughlin; Nick Hadikwa Mwaluko; Salim Razawi; Kevin Seaman
Fall 2016
13th Floor; AlterTheater Ensemble; Crescent Moon Theater Productions; FaultLine Theater; Left Coast Theatre Company; Play Café, Inc.; Theater MadCap; TheatreFIRST; Safiya Fredericks; Lisa Hori-Garcia; Min Kahng; Bridgette Portman; Andrew Saito
Spring 2016
Bindlestiff Studio; Klanghaus; Leela; The Lower Bottom Playaz, Inc.; Diane M. Barnes; Sophie Becker, Kristen Rulifson, Hien Huynh; Andrea L. Hart
Fall 2015
Black Box Baroque; Just Theater; Naked Empire Bouffon Company; Ubuntu Theater Project; Rotimi Agbabiaka; Christopher Chen
Spring 2015
Eye Zen Presents; The Lower Bottom Playaz, Inc.; Red Ladder Theatre Company; Delina P. Brooks; Christine Crook; Min Kahng; Lisa Marie Rollins
Fall 2014
AlterTheater Ensemble; DivaFest; Echo Brown; Peter L. Stein; Conrad Bishop & Elizabeth Fuller; Megan Trout; Michael Gene Sullivan; Ana-Catrina Buchser
Spring 2014
Black Artists Contemporary Cultural Experience; Idiot String: Joan Howard and Rebecca Longworth; FoolsFURY Theater; Corey Fischer; Sara Kraft; Kevin Rolston; David Szlasa; Eli Wirtschafter, Marica Petrey and Hannah Michahelles
Fall 2013
AlterTheater Ensemble; Just Theatre; BrickaBrack; The Lower Bottom Playaz, Inc; Michael Gene Sullivan; Eugenie Chan; Steve Boyle
Spring 2013
DIVAfest; Erling Wold's Fabrications; Ferocious Lotus Theatre Company; Symmetry Theatre Company; Erin Bregman; Lisa Scola Prosek