Join us for a lively evening of celebration, performance, and community.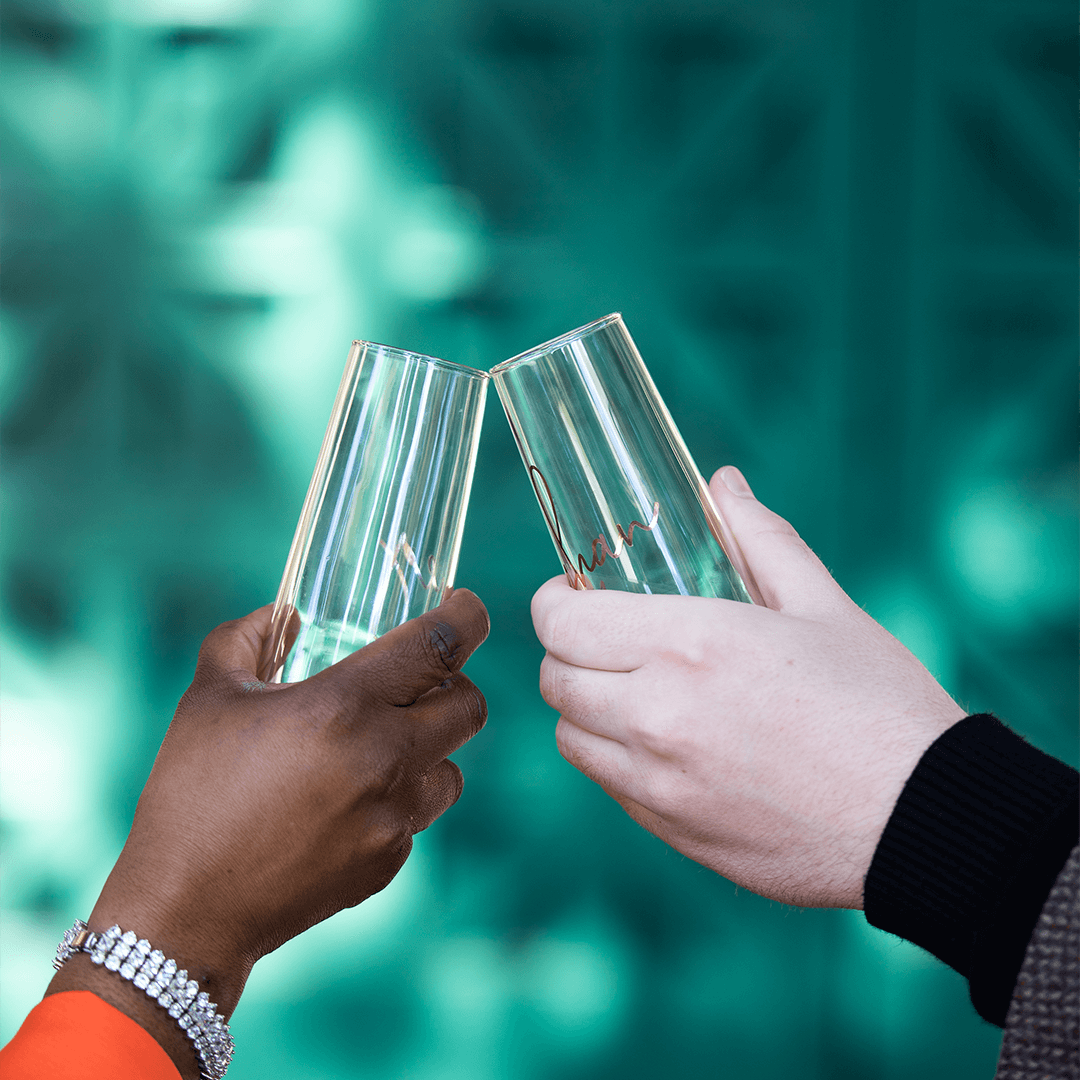 Here's to the Future of Theatre
The TBA Spring Soirée is our moment to celebrate everything this community has accomplished over the past year, and to raise funds to ensure theatre in the Bay Area is able to thrive.
Enjoy delicious food and drinks, immerse yourself in unique performances from across the Bay Area, and dance the night away with the most vibrant community of theatremakers and theatre lovers on the West Coast.
Can't-miss Performances
Showstopping ensembles! Classics reimagined! Homegrown musicals!
Highlighting some of the most beloved productions of the past year, the Spring Soirée puts a spotlight on the incredible talent and geographic breadth of our community.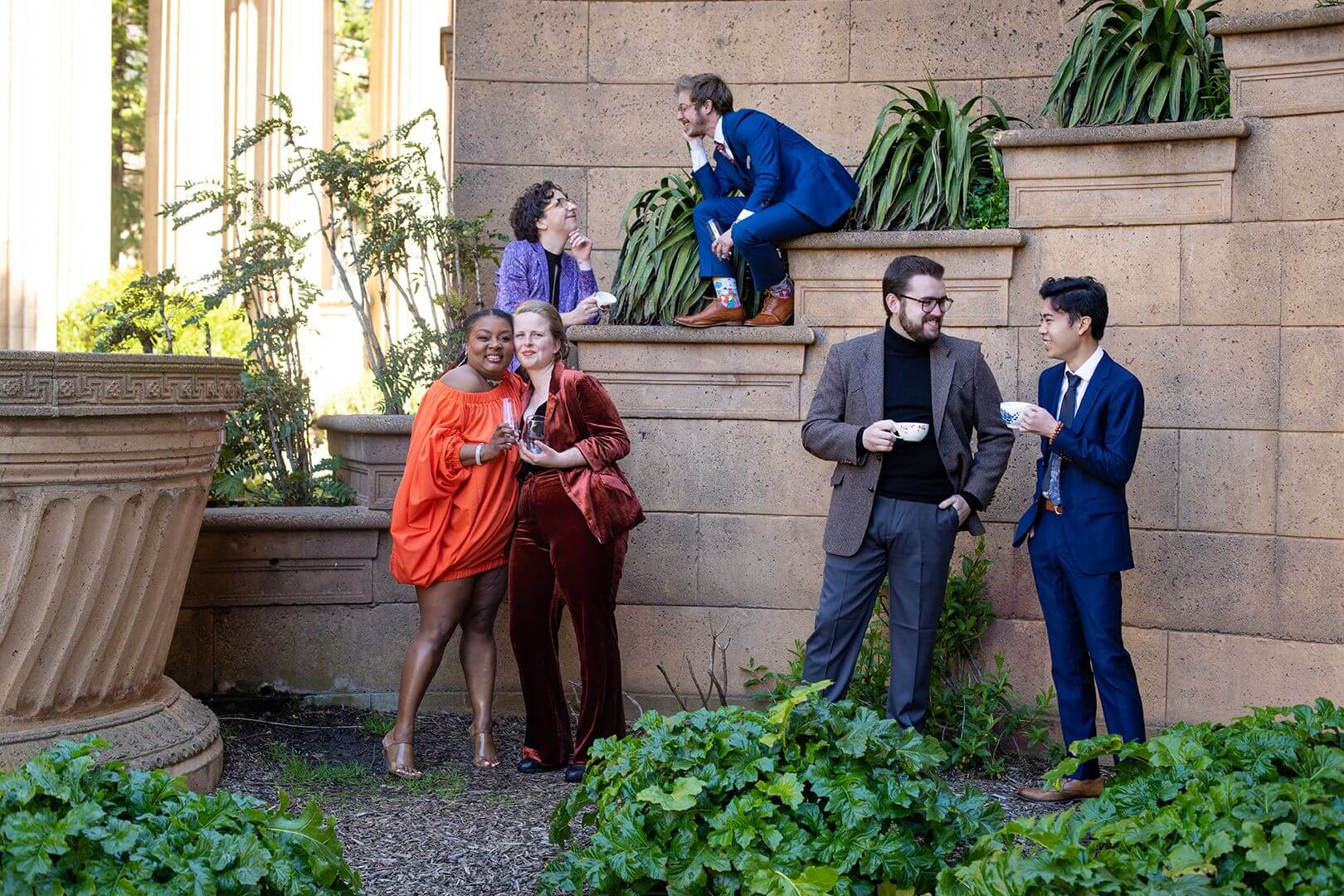 Phaedra Tillery-Boughton, Anthone Jackson, Katrina McGraw*, Dave Abrams*, and Majesty Pearl
Hillbarn Theatre's Ain't Misbehavin'
Angel Adedokun
Shotgun Players' Natasha, Pierre, and the Great Comet of 1812
Vince Chan, Ahja Henry, Brenda Palaby, Amarech Mendez, Rocky James Concepcion, Zuri "Iruz" Montgomery, Naté the Soulsanger, and Orion Harris Santiago
SFBATCO's The Day the Sky Turned Orange
Marshall Forte
Ray of Light Theatre's Kinky Boots
Nick Nakashima* and Raquel Basco
TheatreWorks Silicon Valley's Little Shop of Horrors
Ruiran Xun
Collaborative pianist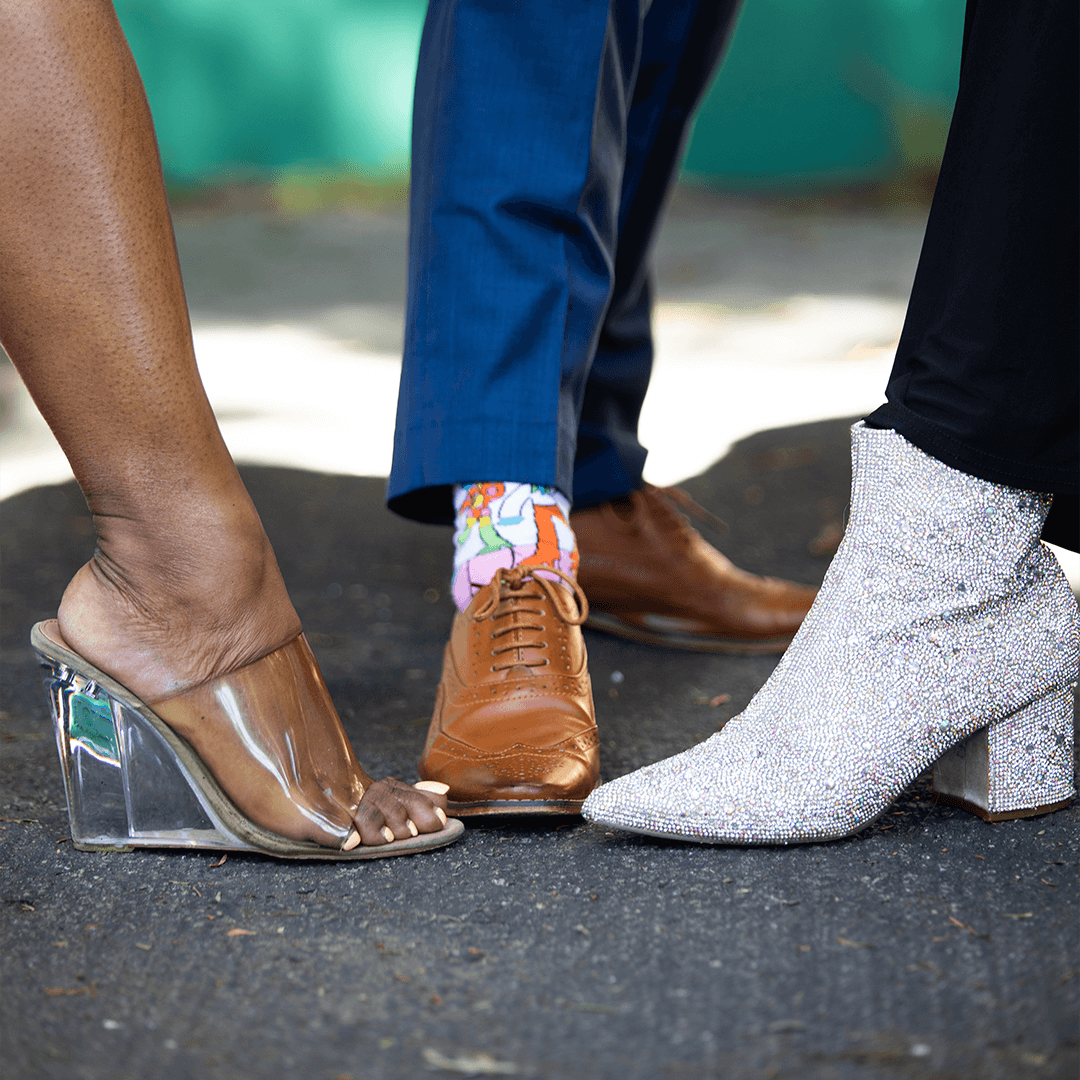 Dress to Impress
Dress to express. Don your finest formal wear or your most fanciful frock — the TBA Spring Soirée is a celebration of our artistic community!
Staff Picks Basket
Art and media that inspire the TBA Cast & Crew
Portrait Session
with Bekah Lynn Photography
Bay Area Theatre Date Night Package
from Berkeley Rep, SF Ballet, SPARC, City Lights Theater Company
Bay Area Theatre Date Night Package
from A.C.T., Marin Theatre Company, Z Space, CenterREP
Bay Area Theatre Week Gift Cards
from TodayTix
Are you ready for the party of the year?
Ticket sales are closed.
Email Meghan@TheatreBayArea.org to check availability.
Performer Bios
Dave Abrams* is thrilled to perform today! His recent credits include: Elf (Buddy), Ain't Misbehavin' (Andre), Hairspray (Seaweed) (2019 TBA Award for Outstanding Featured Actor), Ragtime (Coalhouse) (2018 TBA Award for Outstanding Actor in a Principal Role), and In The Heights (Benny) (BroadwayWorld Regional Theater Nomination). Dave holds a Bachelors of Arts in Theater and Dance from the University of California at Berkeley. He looks forward to hitting the big apple soon and landing more opportunities to perform! 
Angel Adedokun (she/her) is a bilingual vocalist, songwriter, and dancer. Singing in English and Spanish, she has worked with the Latin company MundoBeat Entertainment and was featured as lead singer of Indianapolis Salsa band Grupo Bembe. As a vocalist, she has performed all over the Bay and served as one tenth of Bay Area Choir, Ja Ronn and FLOW; performances include Yoshi's in Oakland and BottleRock 2019 in Napa Valley. Her stage credits include Footlite Musicals, Ray of Light Theatre, New Conservatory Theatre Center, Bay Area Children's Theatre, and, most recently, the smash hit Natasha and Pierre and the Great Comet of 1812 at Shotgun Players. Her exceptional work in musical theatre earned her the 2022-23 RHE Artistic Fellowship. With a dance background in Salsa, Plena, Bhangra, and Hip Hop, Angel has choreographed for Ray of Light Theatre and Peaches Christ Productions. She conducts musical workshops with Bay Area Children's Theatre, serves as Casting Manager at Ray of Light Theatre, Director at Tomorrow Youth Repertory, performer at Bay Area Children's Theatre, and Education Director for Yeah, Art! In Oakland, CA. She is currently working on music, score writing for OasisTV in San Francisco, and doing voiceover for BACT's online platform Play On! For more information, go to Hellosoulangel.com @AngelAdedokun 
Raquel Basco is an actress, model, and current titleholder for Miss Bay Area USA. She is known for her advocacy work in mental health and has dedicated the last seven years of her life to her platform in pageantry. 
Marshall Forte is an actor, singer, and dancer currently based in San Francisco, CA. Marshall is currently performing a solo cabaret show at Lyon & Swan on Saturday nights through April 2023. He is a singer and soloist in the San Francisco Gay Men's Chorus and a member of the HomoPhonics a cappella ensemble. He also sings locally as one half of the musical duo Just Neighbors. Previous roles include Lola/Simon in Kinky Boots (Ray of Light Theater), Hysterium in A Funny Thing Happened on the Way to the Forum, Dr. Thomas Parker in Bat Boy: The Musical (Augustana College), and dancer with The Piecemakers in Chicago. 
Anthone Jackson is actor/singer who was born and raised right here in the Bay Area. He began singing at the age of 4, in church and continues to lead worship and sing with various groups. He has performed with various theatre companies around the Bay Area in shows such as I, Too, Sing America, The Color Purple, Smokey Joe's, Violet, and Big River in 2019 which he earned a TBA Award for. His next show is TBD, but follow along @AnthoneOnStage(FB) to see what opportunities arise! Shout out to his beautiful wife, Ashlee for holding it down with their wonderful children(Averee, Aubree, and Amanee) whenever he gets to perform! 
Katrina McGraw* (She/Her) is a San Francisco native who graduated from the Pacific Conservatory of the Performing Arts. Some past credits include Charlotte in A Little Night Music (42nd St. Moon) Woman 2 in Songs For A New World (SF Playhouse) Bessie Smith in The Devils Music (Canter Rep) Donna in Mamma Mia (Berkeley Playhouse) Marie in Fiorello! (42nd St. Moon) Bird Woman/ Miss. Andrew in Mary Poppins (SF Playhouse)  Ms. Myers/ Alexandra Daniels in Freaky Friday (Center Rep) Ms. Shields in A Christmas Story (SF Playhouse) Armelia in Ain't Misbehavin' (42nd St. Moon) She Loves Me (San Francisco Playhouse) Crystal in Little Shop of Horrors (Ray of Light Theater) Dragon in Shrek (Berkeley Playhouse) Kate in Zanna, Don't! (NCTC), Dynaminte in Hairspray (Woodminster Theater and PCPA Theaterfest). Follow her on Instagram @bigbrownlead 
Nick Nakashima* (he/him) recently appeared on 42nd St. Moon's stage as Evelyn Oakleigh in Anything Goes and in TheaterWorks' production of Little Shop of Horrors as Orin Scrivello, DDS. Mr. Nakashima has also had important roles in other productions, including A Gentleman's Guide to Love and Murder, Irma La Duce, The Golden Apple, The Pajama Game (42nd St. Moon), Ragtime, Sense & Sensibility, Emma, The Learned Ladies of Park Avenue, and A Little Night Music (TheatreWorks). His regional theater credits include Next to Normal, Suds, Me and My Girl (Jewel Theatre), Children of Eden, Beauty and the Beast (AMTSJ), Jesus Christ Superstar, The Producers, and La Cage aux Folles (Woodminster). Mr. Nakashima can be seen in 42nd St. Moon's upcoming production of She Loves Me, on stage at the Gateway Theatre, June 8-25. 
Majesty Scott is more than a triple threat. She earned a BA in Theatre and Performance Studies from UC Berkeley. She has trained at and worked with the American Conservatory Theatre, Broadway by the Bay, Woodminster, Hillsbarn Theatre, Ray of Light, Napa Valley Performing Arts and California's Great America just to name a few.  She has starred as Deloris (Sister Act), Aida (Aida), Pattie (Smokey Joe's Café), Lorrell (Dreamgirls), Charlene (Ain't Misbehavin'). Majesty has been privileged to perform in historical venues such as the Wembley Arena (London, England), the Tropicana (Las Vegas), and the Paramount Theatre (Oakland, CA). 
Phaedra Tillery-Boughton is a Bay Area based actor, director, playwright, casting director, production associate, teaching artist and arts advocate. Her past theater productions include  West Side Story (Director), Legally Blonde (Director), Sleeping Beauty as Mission Burrito,  Clybourne Park (Director), Aint Misbehavin' as Armelia McQueen, 1940s Radio Hour as Geneva, Newsies, The Color Purple, To Kill a Mockingbird (Hillbarn). Caroline or Change, Little Shop of Horrors (Ray Of Light Theatre), Newsies (Woodminster), Tarzan (PAP), Avenue Q (NCTC). She is Theatre Bay Area 2022-23 Recipient of the Arts Leadership Residency Cohort partnered with SFBATCO. She is now SFBATCO's Producing Associate.  She consistently challenges the concept of traditional theatre and finds new ways to push the boundaries of creativity and inclusion in the creative arts community. 
Ruiran Xun (she/her - Pianist) is a collaborative pianist, music/vocal director, and software engineer. Select credits: JUSTICE: A New Musical (MD) @ Marin Theatre Company; Next to Normal (VD, keys) @ Sunnyvale Community Players; The Addams Family (MD) @ Landmark Musical Theatre; Rent, The Rocky Horror Show, Mamma Mia! (MD) @ Scotch'n'Soda Theatre; The Turn of the Screw, The Light in the Piazza (rehearsal pianist) @ CMU School of Music; Mister Rogers' Operas (AMD) @ Pittsburgh Festival Opera. Please continue to support live theatre in the Bay Area! ruiran.me 
SFBATCO (San Francisco Bay Area Theatre Company) engages artists and audiences through live theatre productions, creative development, and community service initiatives that resonate with SF Bay Area perspectives. The organization provides a platform for People of the Global Majority, and inspires both new audiences and theatre innovators. 
DJ Angry Robot is an Oakland-based DJ ready to bring the vibes. 
Special Thanks To 
This event is only possible thanks to the generous support of:
Our Host Committee
Sean Fenton, Jennifer Jolliffe, Kathy King, Dawn Monique Williams, Cesar Cadabes, Karen Corby, Sunshine Deffner, Brad Erickson, Karina Gutierrez, Barry Kendall, Kevin Kosik & Anthony Ramon, Fred Lonsdale, Ann Marie Lonsdale, John Mannion, Juan Manzo, Nancy Quinn, Anne Smith, Jennifer Sousae, Meredith Suttles, and Anne Younan
Our Community Partners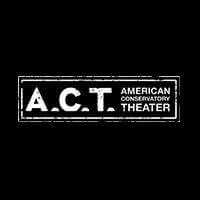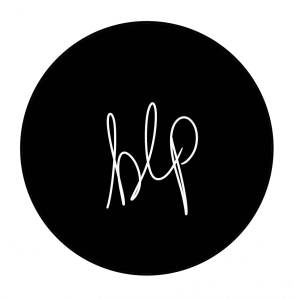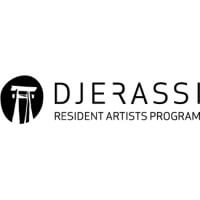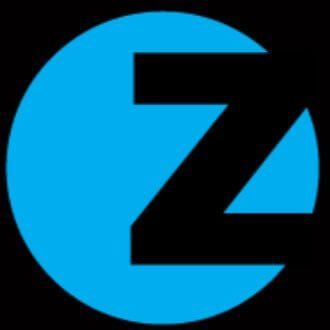 *Members of Actors' Equity Association, the Union of Professional Actors and Stage Managers in the United States.
We wish to express our gratitude to the Performers' Unions:
ACTORS' EQUITY ASSOCIATION
AMERICAN GUILD OF MUSICAL ARTISTS
AMERICAN GUILD OF VARIETY ARTISTS
SAG-AFTRA
through Theatre Authority, Inc. for their cooperation in permitting the Artists to appear in this program.
Photos by Bekah Lynn Photography, Kevin Berne, Benjamin Krantz, Christian Pizzirani, and Mark & Tracy Photography